This is my daughter, Sierra, teaching her students in "Ms. Spring's Classroom."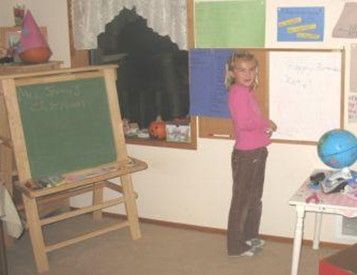 But Sierra and I each have a problem. My problem is I want my daughter to go to college. My daughter's problem is she wants is to be a teacher when she grows up. So we turned our dining room into a classroom where my daughter re-enacts what happens in her real class each day, only in the evening Sierra gets to be the teacher. I told Sierra if she wants to be a teacher, she needs to do well in school so she can get into a good college. But here's my problem… my daughter is going to school in one of the lowest funded and most over-crowded school districts in America. The following is an article I wrote about problem solving ten years ago. These are the 8 steps I am now using to try to solve our State's school funding problem.

STEP 1 - AWARENESS THAT A PROBLEM MIGHT EXIST
Anticipate the potential for problems before they actually occur. Acknowledge them as they arise. Admit responsibility for your part in creating a problem and take an active role in seeking a solution.


STEP 2 - CRISIS MANAGEMENT
Get the brain working. Control fear, panic, shock, and stress. Take 3 deep breaths. Think calm thoughts. Encourage group reassurance. Magic phrases: Everything will be OK. Everyone is doing the best they can.
STEP 3 - IDENTIFY THE PROBLEM
a) Seek input from each team members and even those outside your team regarding what they feel the problem is. There may be (and usually is) more than one problem ... Break down complex, problems into simpler, more specific problems which can be more easily solved and then solve separately. Focus on the most important problems first. High Safety priorities include getting to a safe place, getting warm.
b) Go beyond symptoms and look for deeper causes, clarify what the real problem is. The real problem may not be the stated problem. Analyze the problem ... why is it a problem? What are its causes?
c) What is the desired outcome? What should the goal be? If possible, put the problems and options in writing.
STEP 4 - DEVELOP OPTIONS
Leader acts as facilitator to identify possible actions that might in the desired outcome
a) Brainstorming ... Practice gray thinking. Criticism kills creativity, compliments lead to new ideas. No option ruled out (Dissension is good at this stage) - seek out ideas from all, encourage and commend suggestions.
b) What resources are available to solve the problem? - what could be improvised? Combine options to create new options and create Win-Win possibilities. Seek out at least three options.
c) Consider the "'No action" option (or turn around option). Summarize all options in writing.

STEP 5 - ANALYZE OPTIONS ... ADVANTAGES/DRAWBACKS OF EACH OPTION
Hope for the best (Hawthorne Effect) but also be prepared for the worst (Murphy Effect) ...
1) Positive consequences of each option. Will the option actually help you achieve the desired goal?
2) Negative consequences of each option. What are the potential hazards? What is the worst thing that could happen as a result of each option? If the worst happened, could you live with it?

STEP 6 - CHOOSE AN OPTION
a) Who chooses? Leader? Leader & experienced members of team? All? Practice Black and White Thinking.
b) Qualities of a good decision should include (1) Safety (2) Acceptable to group (seeking consensus) (3) Courage to confront group (4) Negotiation and compromise (5) Research and preparation
c) Narrow solutions down to 2 or 3 safest options, then debate only these choices. Ask dissenters what they don't like about the preferred option and try to change that option to address their concerns. If no option seems safe (or acceptable to leader or group) go back step 3 or even step 2. Be realistic about group limitations and time constraints. Consider the weakest link. Balance group needs with individual needs.

STEP 7- CARRY OUT THE OPTION
a) Inform the entire group of the chosen option

prior

to acting ... cooperation is good at this step.
b) Seek group consent/dissent and resolve. (The option may fail solely because it lacks the support of the entire group). Delegate authority - use the strengths of each member in the group.
c) Don't be afraid to try or afraid to fail. Use failure as a positive outcome ... Learn from mistakes ... Maintain a positive attitude (Hawthorne) "Lettingthe mountain turn you around"

STEP 8 - EVALUATE THE ACTUALOUTCOME
a) Did the option achieve the desired outcome? Set time and goal limits in the beginning to reevaluate . . . i.e. "we'll try this until 5pm or until we get to that ridge and then reevaluate
b) If no, then should another option be tried to solve the problem?
c) Do other problems still remain? Or did the problem simply change in nature ... i.e. did the action reveal that the first "problem" was simply a symptom of a deeper problem?
d) Prevention/Anticipation ... can anything be done to prevent the problem from re-occurring in the future?
d) Maintain balance and prospective ... Avoid dwelling on solely problems to the neglect of fun and happiness.